CUISINE
Our kitchen is the place where nature, breeding and know how meet together. From the land to the table!
As in our homes, the kitchen represents a meeting and exchange point; here our dishes are prepared with the organic products from Tenuta di Paganico and local producers.
All the raw materials used in the kitchen come from our vegetable garden, our free range breeding or from local producers with whom we share ideals and thoughts.
The common purpose with our producers is that agriculture is attentive and rigorous, respecting the environment, biological and as local as possible.
The restaurant  give us the opportunity to tell what we do and make it true, sincere and understandable through the act of eating and sharing a meal. That's why we care!
The pasta, bread, and desserts are homemade with organic flours of ancient grains!
OPEN FOR LUNCH
FROM TUESDAY TO SUNDAY – FROM 12.30 TO 2.30
OPEN FOR DINNER
FRIDAY AND SATURDAY – FROM 7 TO 10
MONDAY CLOSED
Info and reservations
ristorante@tenutadipaganico.it
3348286004
We are waiting for you for lunch for quick and tasty dishes: from pasta with Cinta Senese pork ragu or Maremma beef to tripe, from cutting boards with our cured meats and cheeses from organic Tuscan farms to boiled meat and lampredotto or delicious seasonal vegetarian alternatives from homemade desserts.
 … AND REMEMBER …

#STAYBRADO!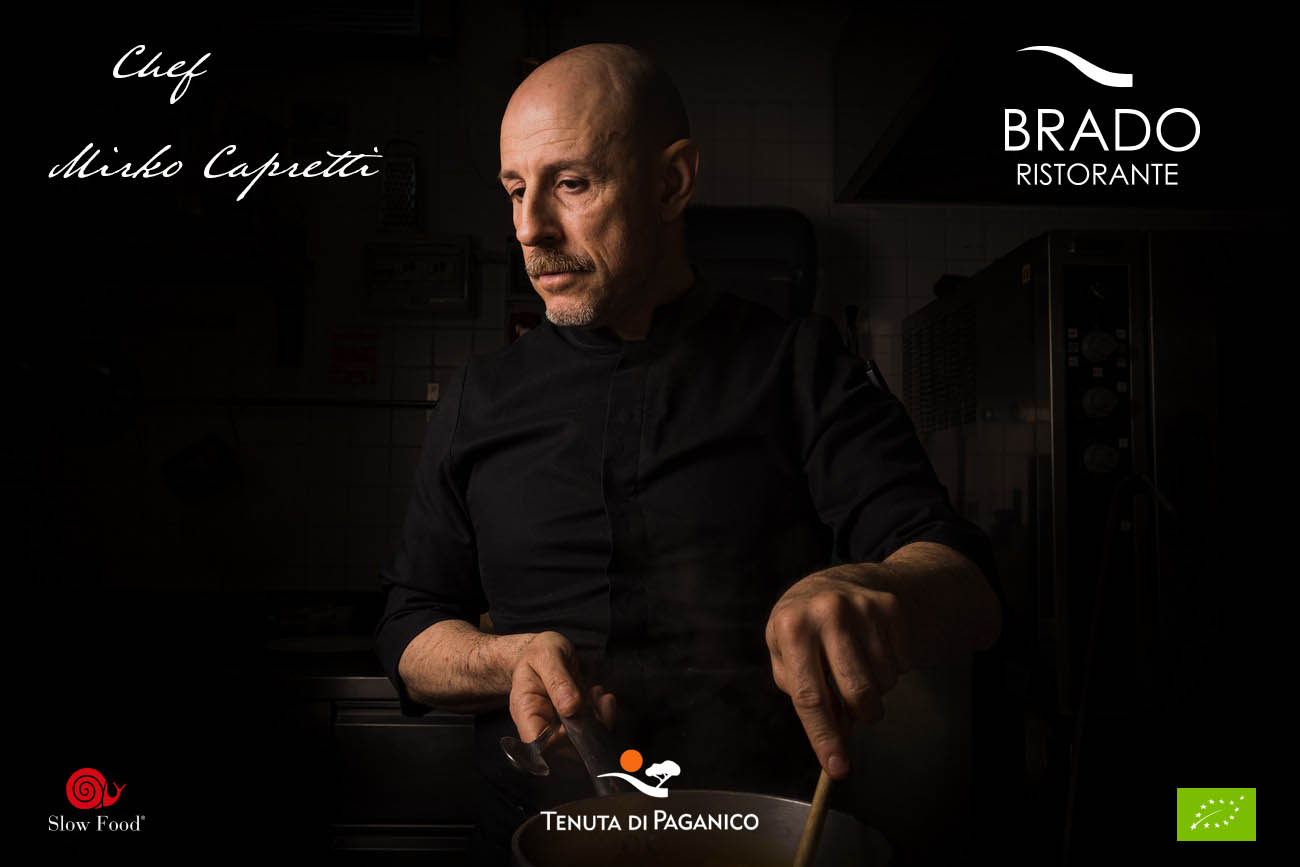 THE CHEF
Chef Mirko Capretti began this splendid profession at the age of 16, and from a very young age he realized that this was his path. He starts following his passion in the kitchen next to his mother while she was preparing meatballs and he ate the raw minced meat, or when he was preparing breaded chops and in her memory the gesture of beating the eggs with a fork remains.
In fact, at the age of 12 he decided to attend the "F. Martini" Hotel Institute in Castiglioncello. After graduation, he catapults into the world of work and is a successful professional escalation both in Italy and abroad. From the Hotel Richmond in Switzerland to the 4-star Superior Hotel Cavallino Bianco in San Candido, from the Almar Hotel and Spa 5 Star Resort in Jesolo to the Bauer Palazzo Palladio 5-Star Luxury in Venice and then to the Golf Hotel Punta Ala, Villa Mangiacane in San Casciano Val di pesa, Golfo del Sole in follonica, Chalet Fiat, Castel Monastero, managing all the kitchen taskes and holding important roles from coordinator to brigade manager.
His skills range from the preparation of bread, fresh pasta, spoon desserts, dry breakfast pastries to Italian, Arab, Japanese and Indian cuisine. Fast cooking, trying to keep the product as fresh as possible and vacuum cooking at low temperatures. Mirko's ductility and international culture, together with his imagination, allow him today to revisit and embellish even traditional dishes with very interesting exotic influences and citations.
His dishes are an explosion of colors, with delicate flavors and accentuated contrast. Textures and fragrances that come together in a true taste experience.
Today he enhances our meats and dishes with his attention and passion, exalting all their sensorial peculiarities and bringing "the agricultural act of eating" to the table of our "Brado" restaurant.




TRADITION, CREATIVITY AND SUSTAINABILITY: THE AUTHENTIC TASTE OF OUR ORGANIC FOOD

At our restaurant you will not find the traditional Tuscan cuisine: the ingredients are local but the way in which we approach the food is contaminated by the international experience of our chefs and by the goal to exploit 100% of our animals, giving the raw material the value it deserves.

From pastrami to carnitas, from Latin streetfood to homemade fresh pasta, we will find a kitchen whose sole purpose is to give form and value to what we produce and know.

Eating at the estate is a sensory experience that we try to renew through themed food and wine events.
WE CHALLENGE AND WAIT FOR YOU!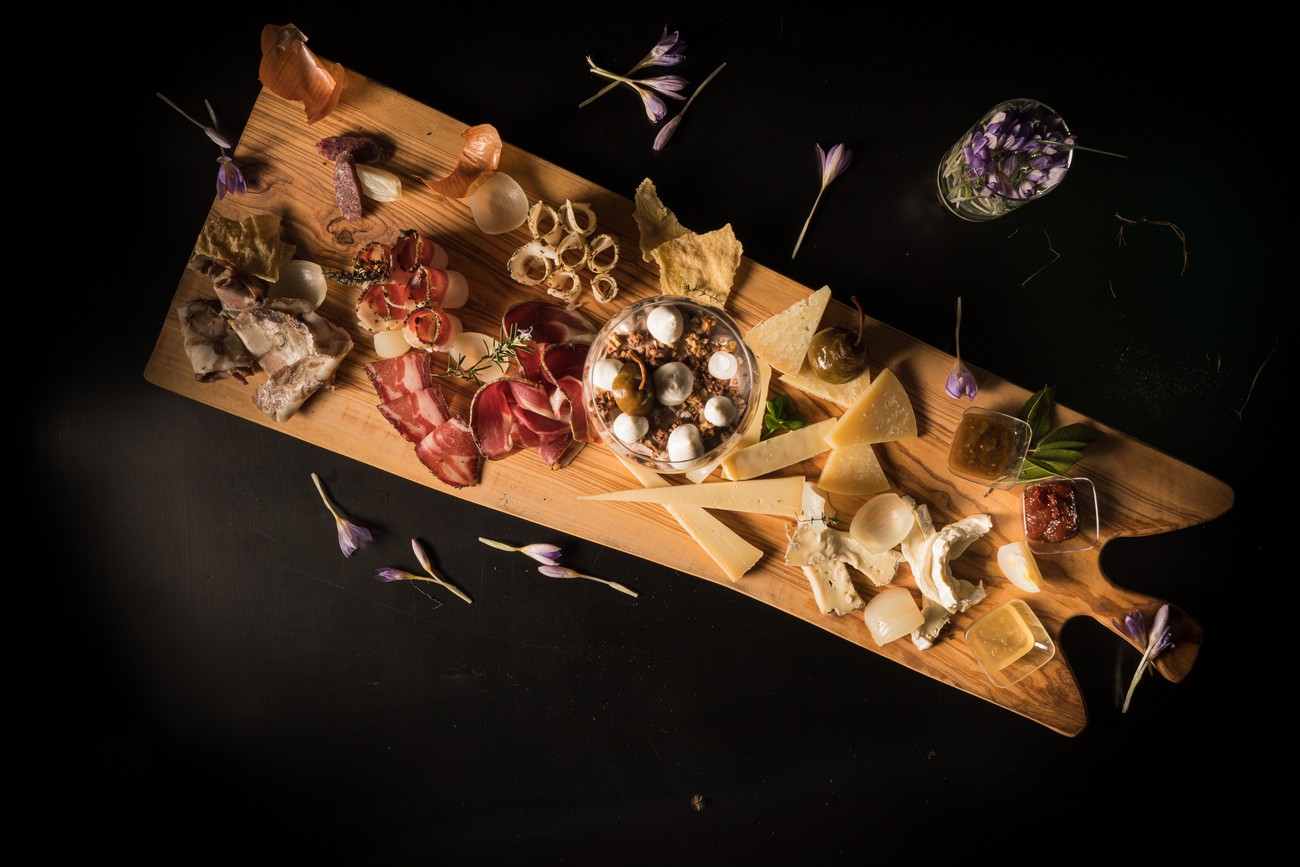 THE LOCATION
We welcome you to BRADO (wild), our restaurant, located in the center of the Opificio, once a cereal warehouse. We have furnished it with reused objects and historical tools of the Estate and designed to accommodate adults and kids. For quick lunches or tastings you can take a seat at BoVINO, our Agricultural Winery and tasting room, once a local carpentry shop, where the large iron table built on the tracks of the ancient saw (track, in fact) stands out, which was used for the cutting of large trunks.
A LARGE ROOM IN THE MIDDLE OF NATURE
In our huge park, a restaurant surrounded by greenery, you can drink a glass of Montecucco, or dine under the oaks, in a relaxed and spectacular atmosphere, where children  can freely play  in nature or get to know our Cinta Senese pigs. . Your pets will be welcome.